If you know me personally, or if you've read the post I wrote on my 7 travel truths, you'll know this: I don't like to experiment with food. Especially when I'm on the road. Which is why I still can't believe that I voluntarily ate whale while in Norway.

First, a bit of background on my very particular palate: when it comes to food, this girl craves familiarity and tepid flavours. I have problems trying anything new, which is often a colossal problem when travelling.
My bias is unfair but not unfounded.  A spate of food poisonings in a number of international locales means that my very sensitive stomach can't handle foreign seasonings and differences in cooking.  I puked my guts out in the foothills of the Himalayas after a hearty dinner in Nepal a few years back. I puked my guts out in Mexico after eating at a roadside stand in Zacatecas.  I've written on this blog about how I puked my guts out (in front of friends, the horror!) after eating some dodgy yogurt in China, and as well as shared the story of how I puked my guts out (thankfully alone, in the comfort of my hotel room) after eating some equally dodgy soup in Guatemala.
As you can imagine, these experiences have put me off being 'experimental' with my food choices when I travel.
But lately, instead of throwing up, I have been throwing caution to the wind.  A great way to learn about a culture, a people, is to eat their food.
In picturesque Bergen, we worked up an appetite and strolled to the central market in order to sate it. The market is a busy place, chock full of stalls selling every type of seafood imaginable. We perused the offerings with hungry eyes and distended bellies. Sauntering past a gentleman whipping up a batch mussels in garlic sauce, I couldn't resist. I had to have a bowl, though I warily noted that, at 70 Norwegian Kronor ($11 USD) per steaming helping, this was an expensive indulgence.  Food is frighteningly dear in Norway.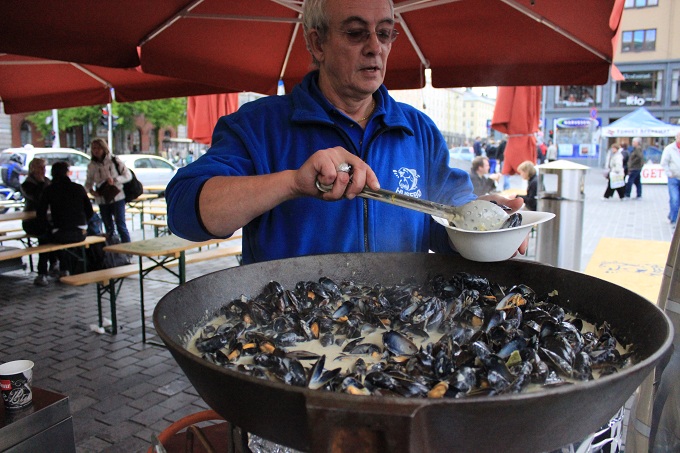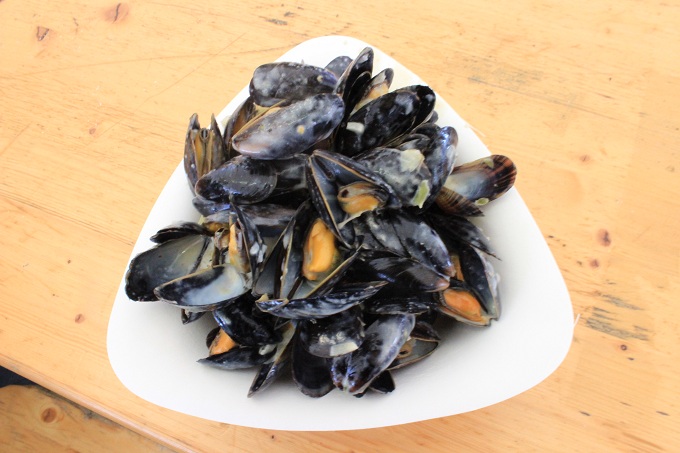 Shared between us, the mussels were consumed in short order.  Appetite whetted but not satisfied, what else could we eat?  The answer was thrilling and daunting all at once. Whale.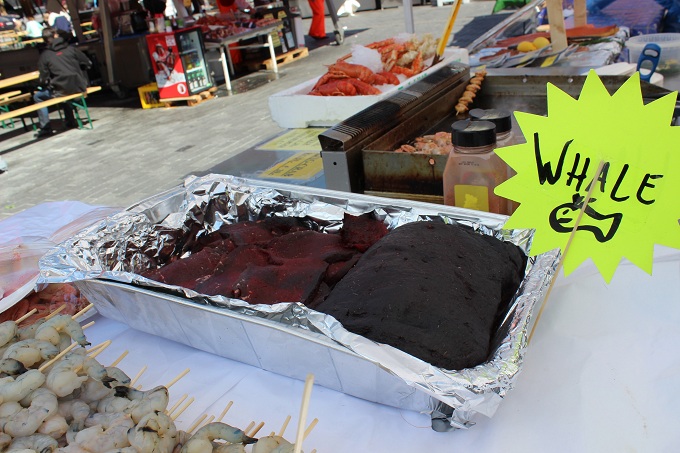 I'm not sure why whale is eaten in Norway, but curiously, this Reuters article cites a study that asserts that whaling is less damaging to the environment than farming livestock.  According to the study, "greenhouse gas emissions caused by one meal of beef are the equivalent of eight meals of whale meat".  According to pro-whaling lobbyists in Norway, eating whale saves the planet.  According to me, regardless of its effect on the environment, the prospect of eating whale is just plain scary.
Whatever the case, Liebling, the instigator, moved to another stall not too far from where we had the mussels and ordered a plate of whale steak. I, in turn, wrinkled my nose in dismay. The vendor told us it would be a few minutes before the whale would be ready and gave us a complimentary plate of grilled crustaceans to gnaw on in the meantime.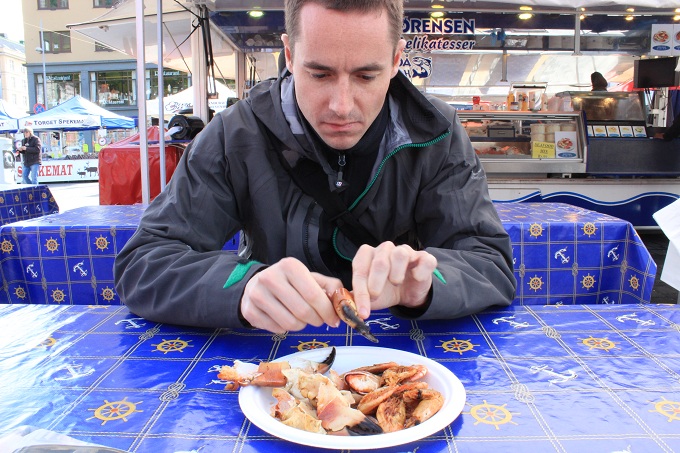 Too soon, the food arrived. To be honest, it looked like beef.  Accompanied by a roll and potato salad,  I almost forgot that it was whale. Until I tasted it, that is.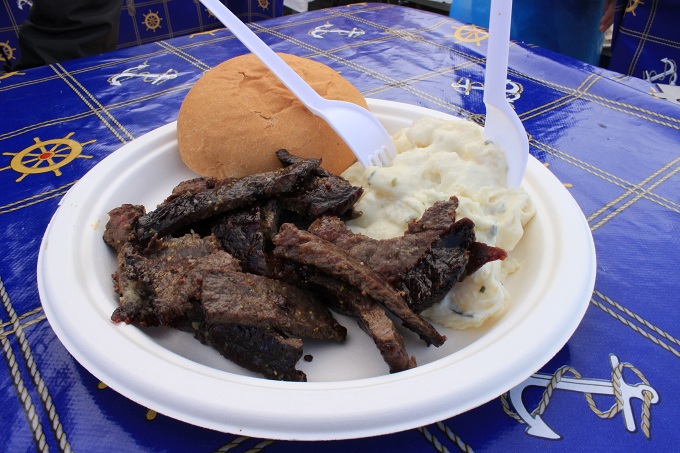 I bit into it wholeheartedly, naively, and was jolted by the shock of an indescribable flavour. The texture resembled beef but the taste was… intense.  Overpowering. Foreign.
 And absolutely not to my liking.
I chewed, swallowed, and hastily stuffed my mouth with the (very tasty) potato salad in an effort to mask the taste of the whale.  Liebling agreed that the taste was like nothing he had ever had before… and then proceeded to eat his plate clean.  I'm thinking he liked it.
As for me? I came, I saw, and I tasted whale… for the first and last time.
Do you like eating foreign/exotic foods?  What the strangest thing you've ever eaten abroad?
Our stay in Norway was arranged by the kind folks at Visit Norway USA. As always, opinions expressed are all mine.