Get a drink and a view at a few of the world's highest bars.
While it's no secret that travel is uplifting, going for a cool drink at the following bars can take your travel adventure to new heights– literally. So take a break from exploring some of the world's greatest cities by quenching your thirst at these saloons with a view:
At.mosphere, Burj Khalifa, Dubai
Located on the 122nd floor of the Burj Khalifa, the world's tallest building, time spent at At.mosphere Restaurant and Lounge will leave you humming Imagine Dragon's "On Top Of The World".  This fine dining establishment and rooftop bar is a perfect coda to a visit of the skyscraper's three eye-watering observation decks ( found on Levels 148, 125, and 124), and provides equally stunning aerial views of the Emirate and Arabian Gulf.
Ozone Bar, Hong Kong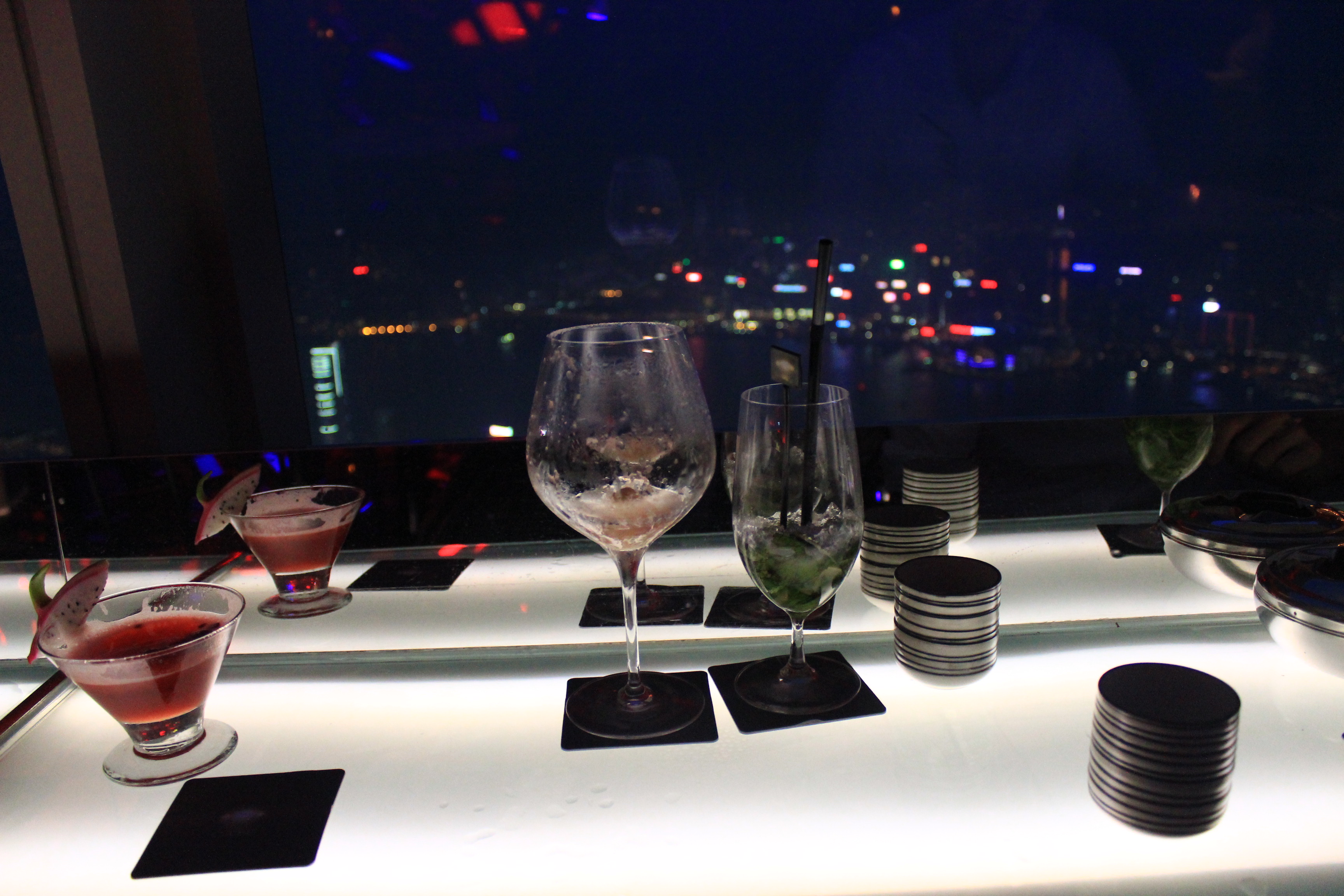 Home to one of the world's most dazzling skylines, Hong Kong's jaw-dropping urban landscape is best viewed from above.  Enter Ozone Bar, the upscale establishment which holds the distinction of being the highest bar in Asia (some argue it's actually the world's highest bar, depending on how you classify it). Perched on the 118th floor of the International Commerce Centre, Ozone is not for the faint of heart (or scared of heights).  However, Hong Kong's mixture of peaks, valleys, bays, crowds, tall buildings, and neon lights make for an exhilarating viewing experience from the rooftop bar's floor-to-ceiling windows.  If you feel daring enough, you can also behold the city in all its splendor from the establishment's outdoor terrace– you may not actually be as high as the ozone layer, but you'll certainly feel like it.
CN Tower 360 Restaurant, Toronto, Canada
Toronto, Canada's largest city and multicultural hub, is a foodie's dream, encompassing eateries serving up cuisine from places as far-flung as Lithuania and Ethiopia.  However, though it may be tempting to try all the international food found within city limits, sampling local Canadian fare is a must. One of the best places to do so is at the 360 Restaurant, which is located in the CN Tower. Found in the city's downtown core, this communications and observation tower was once one of the tallest free-standing structures in the world.  Not only can you enjoy dishes prepared with Canadian ingredients in a distinctly Canadian style, you can also do so while getting stellar 360-degree revolving views of Toronto– yes, the rooftop bar and restaurant, situated 1,150 feet above street level, also spins!
So if you're a thrill-seeker looking for a natural high on your next travel adventure, think about grabbing a drink or a bite to eat at one of these top-notch, sky-skimming locales– some of the world's highest bars! Believe me, a visit will be sure to go above and beyond your wildest expectations.  Especially above!