Is there anything more delicious than a nice hotel room after a long day of touring a city or village? The feeling of cool, clean, fastidiously ironed sheets on your bare skin, the sight and scent of a healthy stock of fancy toiletries generously provided by the establishment?
For me there is simply nothing better.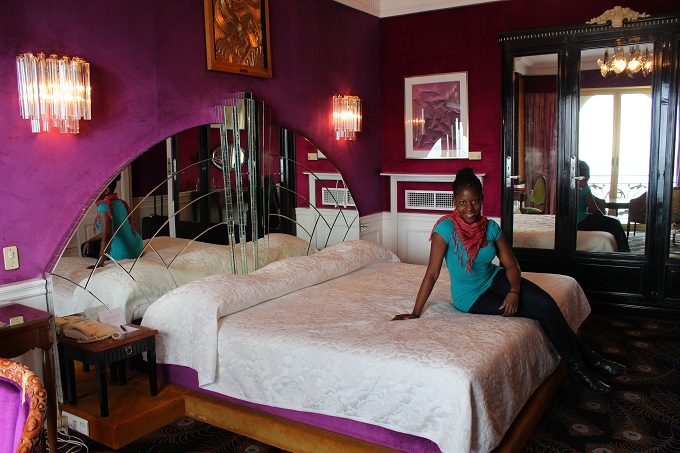 As I've gotten older my travel style has changed: where I lay my head at night is as (if not more) important as what I do out of doors. (A slight pause while some readers clutch their pearls…)
But seriously. From my point of view, good accommodation is a haven, a safe place in which this extroverted introvert can relax, relate, and release before heading out into the world and experiencing my destination of choice at full throttle.
Never fear, there is a point to my rambling.  In short, I love me a nice hotel.
Which brings me to today's post, a show and tell of the Jetwing Vil Uyana in Sigiriya, Sri Lanka, where we were offered a one night stay.
The ancient city of Sigiriya, quite literally at the centre of Sri Lanka's cultural triangle, was a natural stop on our second honeymoon for one very big reason– Lion's Rock. This imposing column of stone juts out unexpectedly from a verdant forest of low-hanging trees; a sprawling palace complex (first constructed in the 5th century!) is found at its summit.
But more on that in a separate post. Liebling and I spent a night at the Jetwing and were quite happy to be snatched up into its clutches– allow me to explain why!
The Grounds
I use the word clutches above for a reason: tucked away in a lush forest far from the dusty roads, the Jetwing Vil Uyana is very much the enveloping haven I long for after a long day of discovery.   What struck me most about the hotel was its natural surroundings: frogs croaked incessantly, the ponds laced throughout the grounds were thick with lilypads, and the copious vegetation provided cover from the rain and made us feel as though we were in an Indiana Jones-inspired adventure. 
Eco Luxury
And yet, despite the rugged, natural surroundings, touches of luxury were everywhere. From the well-appointed and sleekly designed common areas, to the polished teak floors and guestrooms equipped with a Bose entertainment system, the detail is satisfyingly sumptuous.  A spa, which we sadly did not have the time to indulge in, gives guests the opportunity to get pampered.

The Room
Our room, a garden dwelling, was both earthy and elegant, with muted tones immediately eliciting calm upon arrival.  I adored how spacious it was, and how cool the floor felt underfoot. If that wasn't enough, our room was anchored by a sprawling terrace that had a view of the glorious grounds.
The bathroom was also to my liking as it was nearly as large as the sleeping area! I was chuffed as I'm a typical girly girl and love having enough space to primp in front of mirror (and intensely lip synch to my favourite songs as I  get ready– I always play music on my laptop in the bathroom!) Liebling, king of the bubble bath, enjoyed luxuriating in the deep tub until his digits shriveled up like prunes.  In short, we were happy.
The Food
The eats are worthy of mention. Breakfast was typical continental fare replete with delectable pastries that are good for the morale but dangerous for the waistline.
We also had a romantic dinner in the hotel's restaurant in the evening.  While roughly 25% tax + gratuity was pricey, our meals were scrumptious and the setting divine.
The Takeaway
Overall, our short stay was fabulous in every way (I tried really hard to find something bad about this hotel but came up short; if I really wanted to nitpick I would say that the cost of food at the restaurant is a bit steep). If you're looking for a hotel that is at once luxurious and down to earth, a place where you can let your hair down and put your feet up, this is the place to go!
So what do you think of this hotel?