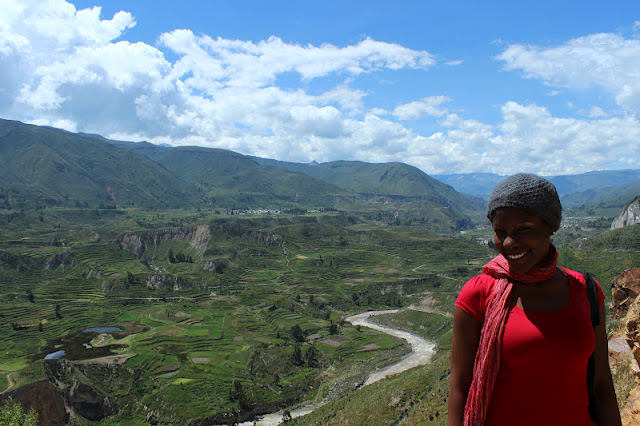 At the Colca Canyon (the 2nd deepest in the world!) in Peru two weeks ago
The tickets are booked and I am furiously tweaking my itinerary.  It is a doozy and even rivals my epic spring/summer travel adventures of 2009 and 2010. Do you want hear where I'm off to this spring and summer? 


My travel motto as of late has been to "go big or go home". If you've been following me on my Facebook page, you are aware of my recent whereabouts, but for those who aren't (tsk tsk! lol), a recap: I just got from a stellar two-week trip to Peru last week.  Before then, back in February, I spent a luxurious week in Dubai. In January, I rang in the New Year in Berlin, which was then quickly followed up by short jaunts to Brussels and Paris.
And did I mention that in the last month of 2011 I even spent three days in Malta?!? Dang.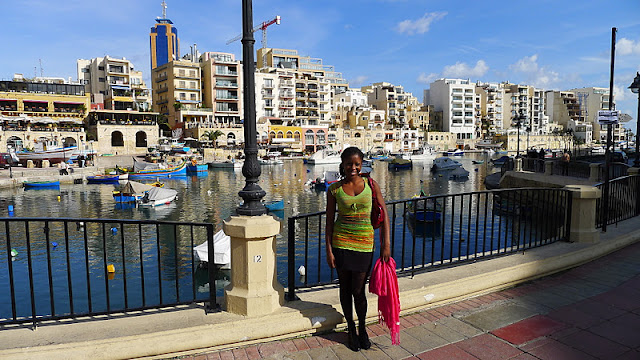 In Malta last December
My insatiable travel thirst (and a spate of cheap plane and rail tickets!) has meant that this little Canadian's passport has been working OVERTIME.
And it will continue to work hard, despite me being burnt out from juggling all this travel along with a full time job teaching French at a high school here in London.  But I am loving what I am doing.  And so, I keep on going.


But enough about me and more about the destinations. This spring and summer is going to be a ridiculously busy travel period, and I am positively THRILLED.


Where am I off to (in chronological  order), then? Read along:


York, Cornwall, Stratford-upon-Avon, and Eastbourne, ENGLAND
As you know, I moved to
London in October to be with my handsome German
.  But while we've been using
London
as a springboard to discover more of Europe, I am embarrassed to say that my travels around England itself have been pretty non-existent.  Luckily, all of that is due to change, thanks in part to England's tourism board,
Enjoy England
! Liebling and I will be hitting up the above-mentioned cities during the months of April, May, and June and I will be reviewing various attractions and sharing my findings with you.  Merry ole England indeed! My first trip will be to York this coming weekend so stay tuned for more updates!
Cannes & Nice, FRANCE and Monte Carlo, MONACO
I'm going to the south of
France
for a long weekend in May, folks! Nice is one of my favourite cities in the world and I have made some fantastic memories there: I lived in Nice for a year back in 2006 and subsequently spent two crazy, party-filled summers while doing my Master's degree in 2008 and 2009.  Needless to say, the city holds a very special place in my heart, and going back, this time with Liebling in tow, will be a homecoming of sorts. We will only be spending a long weekend there but I plan to drag Liebling all along the riviera: from the posh beaches of Cannes to the flower market of Nice, to the grand casino in Monte Carlo.  The thing I'm most looking forward to, however? Walking along the shores of the Mediterranean and biting into my favourite French pastry!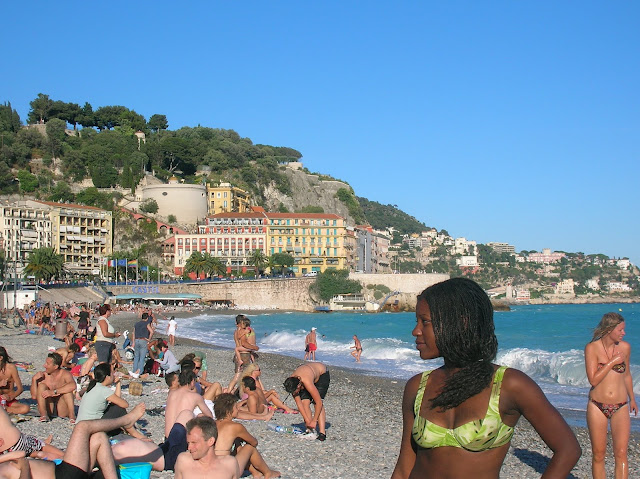 On the beach in Nice in 2008
Right after living in up on the Riviera, Liebling and I are back to the Fatherland for a weekend to spend Mother's Day with dear Momma Liebling. I love going to Liebling's hometown of
Berlin
– it's a great city and I love experimenting with my very basic German. Besides, I am already salivating at the prospect of eating a fatty currywurst on Berlin's gritty streets… We'll also go back in August for the wedding of one of L's best friends.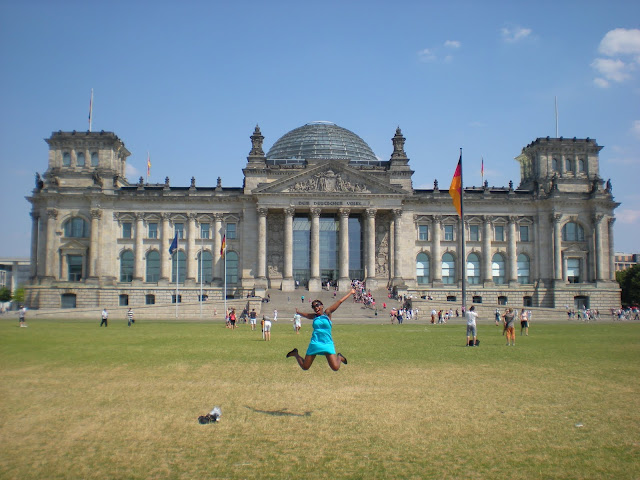 Jumping for joy in front of Berlin's Bundestag, 2010
This trip is for my day job, not for pleasure! I'll be chaperoning a group of 7th-graders from my school on their annual end of year field trip.  I've never been to this region of France and not quite sure what to expect since I'll be travelling with 50 students and 4 other teachers. The trip has an orienteering focus, which should be interesting!
While the Diamond Jubilee celebrations fêting the Queen's 60 year reign will be rocking London, Liebling and I are hightailing it outta here and heading north!
We'll be spending four days in Bergen
and hope to check out the fabled fjords (as well as stuff our faces with local cuisine).  I'm really looking forward to this trip but there is one concern: I hear that Norway is insanely expensive and therefore am not thrilled about the potential strain on my pocketbook. Nevertheless, apart from one trip to
Stockholm
two years ago, I've not been to many places in Scandinavia (…yet! Read on for more details…) so this trip is highly anticipated.  Have any of you been to Norway? Is it as expensive as they say?
Madrid and Pamplona, SPAIN
School will be out for summer at this point and I'll be making the most of my 2 months off!
I can tell you right now that this trip is going to be epic. I'm going to the San Fermines festival in Pamplona- otherwise known as that little (and when I say little, I mean HUGE) festival where people run with BULLS- that happens every July.
I WILL BE RUNNING WITH THE BULLS- at least, that is the plan.
I will be joined in this unforgettable experience by 4 fun, fearless female bloggers:
Jeannie
,
Lois
,
Nicole TravelBug
, and
Nicole is the New Black,
and partnering with
Roomorama
and
Eurail
. This may be the craziest thing I've ever done, but also the coolest! I'm also planning on spending a couple of days in Madrid in between.
I haven't been to Spain since 2006
, so I can't wait to take it all in.
ISRAEL and JORDAN
Those that
follow me on Facebook
already got wind of this trip ages ago. Liebling and I are going to Israel and Jordan the last two weeks in July.
Flying into Tel Aviv, we'll check out Jesus' birthplace and fave haunts before heading into Jordan and peeping Petra.
The desert will be hot as Hades, but a float in the Dead Sea may stave off the sizzling heat. Regardless of the temperature, the scenery is sure to be stunning.
ESTONIA, FINLAND, LITHUANIA, LATVIA, SWEDEN
Umm, yeah, you read that correctly. I am pleased as punch to announce that I'll be exploring this area of Europe courtesy of
Busabout
– I'll be embarking on their whirlwind
Scandi-Baltic trip
!
This 9-day bus and boat journey will take me to the capital cities of the Baltic States (Vilnius, Tallinn, and Riga) as well as to the Scandinavian capitals of Helsinki and Stockholm.
After going sailing in
Croatia
a few summers back, I'm looking forward to finding myself on the open seas again (the tour includes two Baltic night cruises).  I'm prone to seasickness, however, so in the event that I don't find my sea legs in time, I will be bringing my Dramamine!
And there you have it, where I'll be over the next few months.
I'm looking forward to sharing all my experiences with you and hope that you'll join me for the ride. I will be posting a ton of articles, reviews, reflections, and photos on the blog, as well as sharing skads of other stuff on
Facebook
and
Twitter
, so watch this space. With such a wide range of destinations and travel experiences, there should be something everyone is interested in!
But I am still very open to your input. Is there anything in particular you'd like me to write about? Have you been to any of these places? If not, which ones excite you the most? If you have been, do you have any tips for what to do or see?




Psst! Don't forget to "like" me on Facebook if you haven't already! Your support is much appreciated!