Truth is, some trips are meant for disconnecting from all of your devices and social media, but others make it hard to resist pulling out your phone and snapping some pics. Universal Orlando is most definitely one of those places. 
One of the best things about taking pictures at Universal Orlando is that all of the park's exciting rides and attractions, food spots, stores, and hotels provide countless opportunities for unique, irresistible Instagrammable shots. Whether your feed features an aesthetic that is minimalist, neutral, black and white, colorful or follows no specific aesthetic at all, Universal has the best spots to take your perfect photo. To make your 'gramming experience easy, I've selected the 10 most Instagrammable spots at Universal Orlando. After all…Pics or it didn't happen, right?
The 10 Most Instagrammable spots at Universal Orlando: The Best Places to Take Photos for your Instagram Feed!
Volcano Bay
This tropical water theme park is one of the best Instagram spots in Universal Orlando and thus, every Instagrammer's dream! Featuring beautiful palm trees, crystal blue waters, and an eye-catching volcano, Volcano Bay is the place to visit if you're looking to capture a colorful snapshot of paradise. When at the park, visit Waturi beach and take a picture with the Krakatau volcano in the background. As the centerpiece of the park, Krakatau stands 200 feet into the sky and is complemented by crystal blue water and glistening waterfalls.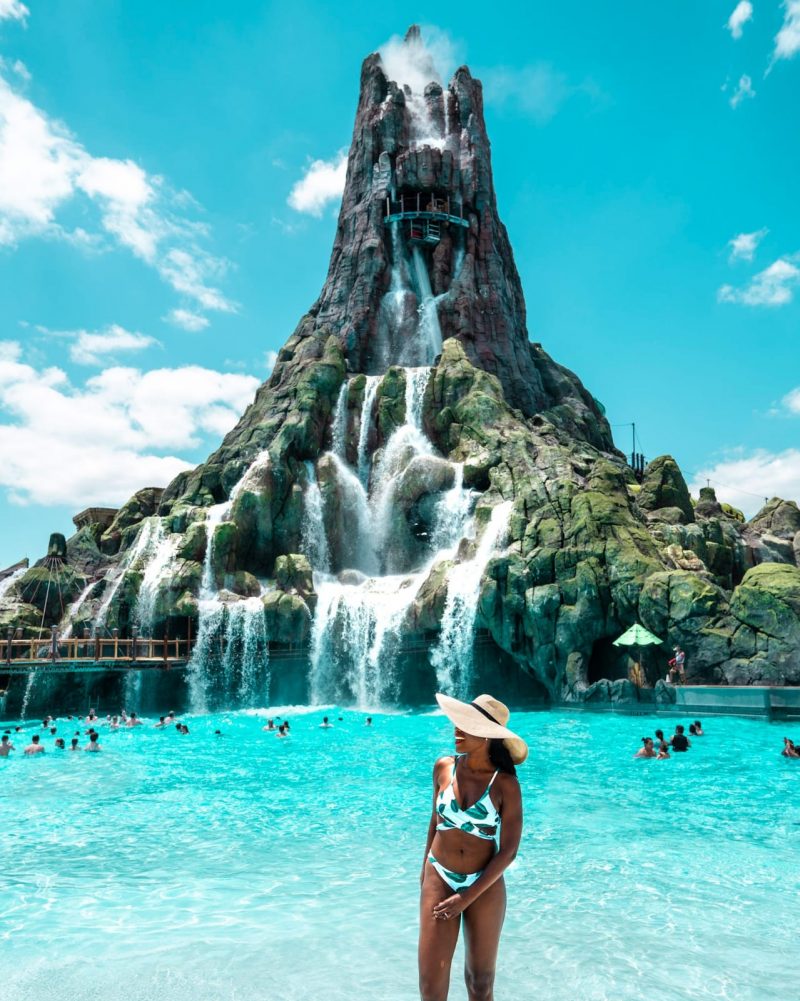 For an even more colorful shot (especially for you foodies out there), take a picture with the park's signature Waturi Fusion Ice Cream Cone. The heavenly dessert has four layers of beautifully colored soft serve flavors making not only delicious but 100% Instagram-worthy!
Tip: If you don't want to use your phone or want to have a professional picture taken, use your TapuTapu wearable throughout the park to take advantage of interactive photo and selfie opportunities which you can purchase and post. 
Portofino Loews Hotel
Inspired by the picturesque village of Portofino, Italy, little needs to be said about why this hotel has some of the best places to take pictures at Universal Orlando. Just about any spot at the Portofino Loews Hotel makes for the perfect picture. The hotel grounds are lined with classic Italian architecture, cobblestone streets, cafes, and traditional Italian cars making every picture look like it was taken in Italy.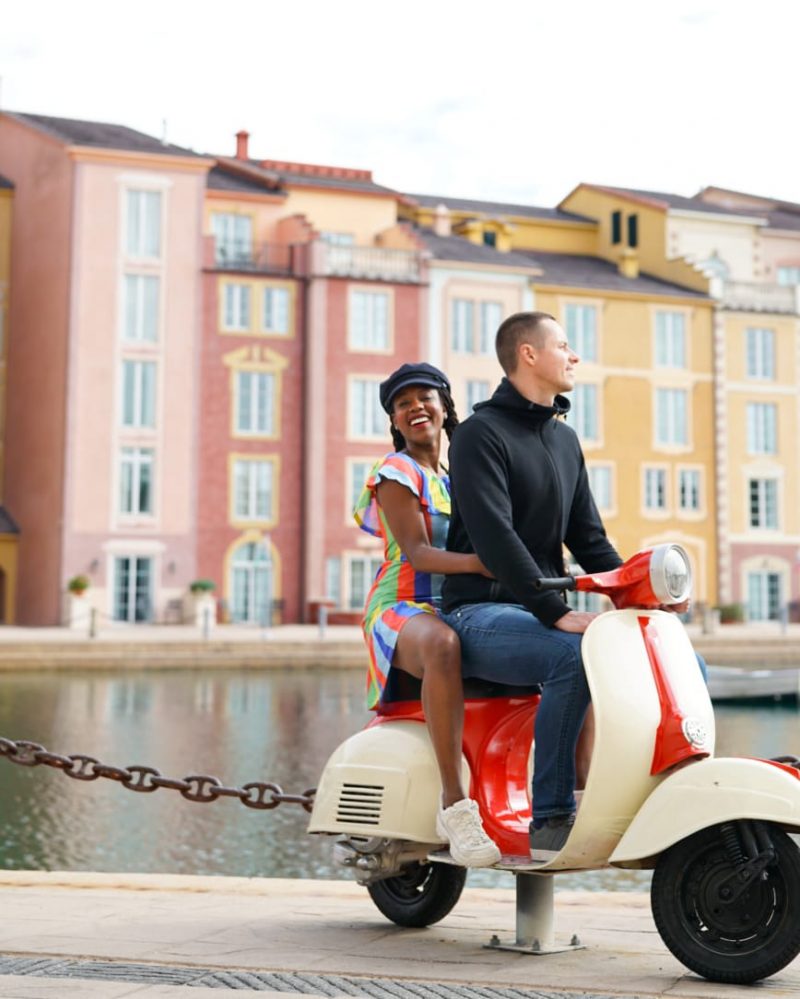 The beautiful warm colors of the hotel buildings make all pictures look like they're straight out of a dream. An even nicer thing about this photo spot is that it's a good option to capture both day and night pictures. During the day, the soft colors pop and are reflected on the water in the harbor and at night, the entire seaside village is lit up and sparkles against the dark sky. 
Hogsmeade 
Whether you're an avid Harry Potter fan or you're just looking for a good photo op for the 'gram, Hogsmeade has you covered. Located at the bottom of the Hogwarts Castle, this cozy village of wizardry is covered in snow all year round. The numerous little shops and decorations give the village an intimate vibe that naturally lends itself to pictures.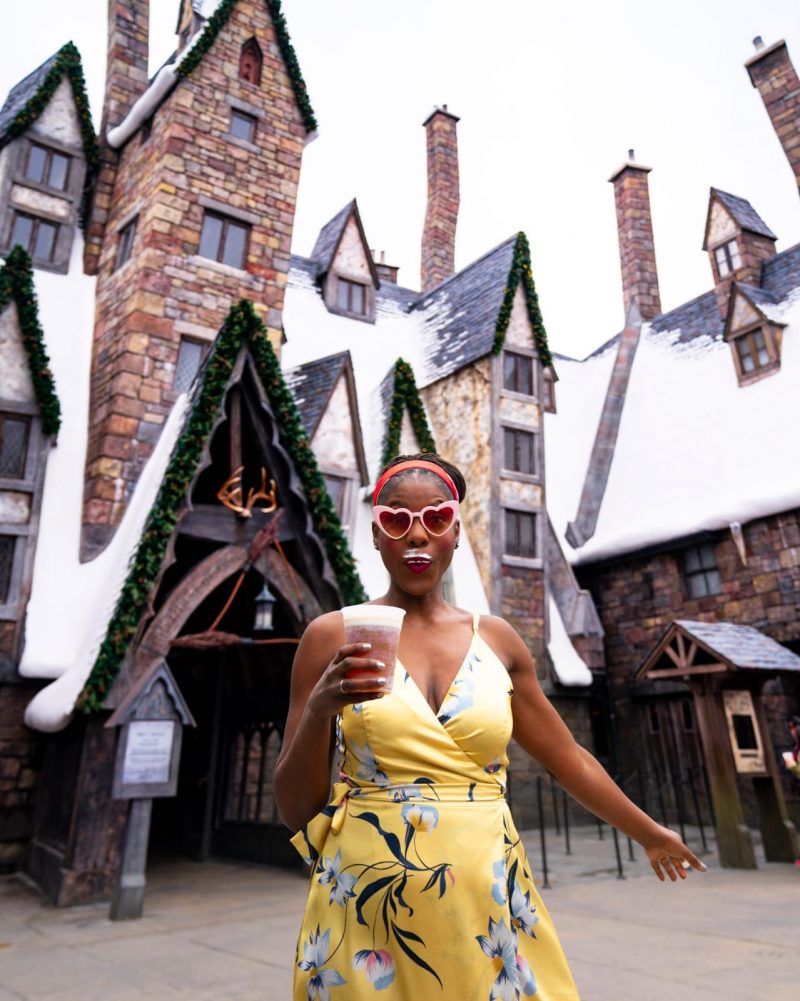 When taking pictures here, you can't forget to include the most important thing: Butterbeer! For those of you who aren't Happy Potter superfans, Butterbeer is a fictional drink that is mentioned in all of the seven Harry Potter books. The drink is described as a mix between cream soda and butterscotch with a sweet, frothy whipped topping. Originally only served cold and frozen, now you can have your Butterbeer hot, as fudge, ice cream, and even potted cream (um, yum)!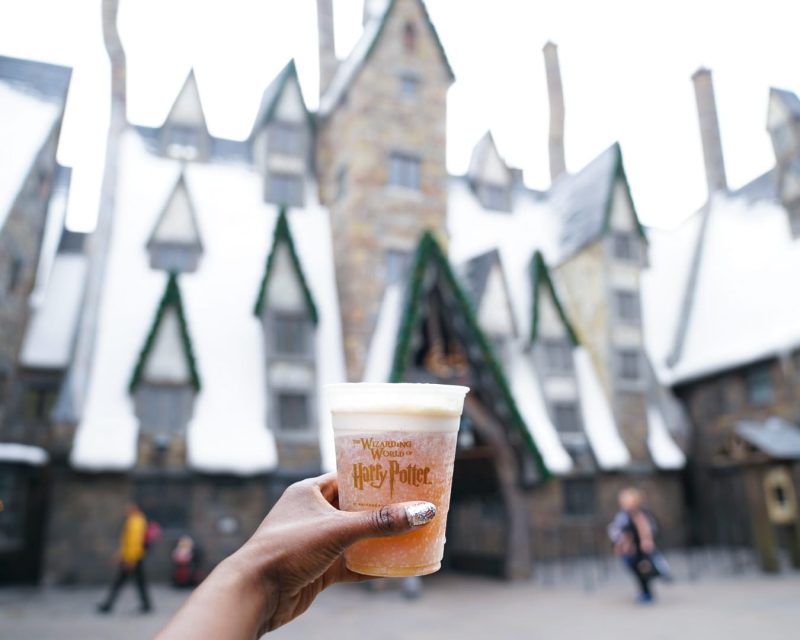 Trying Butterbeer has become somewhat of a rite of passage for visitors to Hogsmeade, so don't do your feed an injustice by skipping out on the Instagram-worthy shot! 
Photo location options: take a picture near one of the Butterbeer stands or in front of the Three Broomsticks pub.
Seuss Landing at Island of Adventure
Let your inner child go wild in the colorful world of adventure that is Seuss Landing. Throw on your brightest outfit and take a fun picture with the bright, whimsical patterns that cover every inch of the playful attraction. Dive into the world of Dr. Seuss by trying Moose Juice or Goose Juice (straight out of Dr. Seuss's Sleep Book) — these frozen orange and green drinks are super refreshing, but more importantly, will add a pop of color to your Instagram.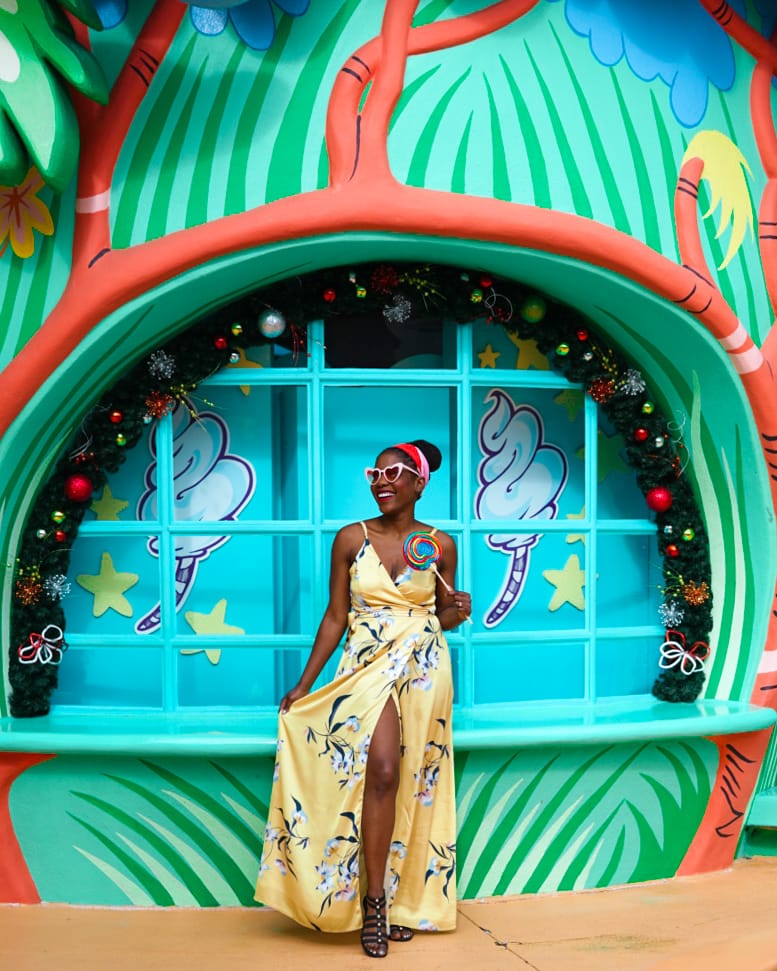 Krustyland, Universal Studios
Who doesn't love the Simpsons? Krustyland has many spots to take the perfect Instagram picture. When here, take a pic standing in front of the larger than life Krusty head, which doubles as the opening to the Simpsons ride. If you're with a friend or significant other, pick up a giant donut at Lard Lad Donuts and get in a picture together with each of you holding a side of the donut in front of the Krusty Head.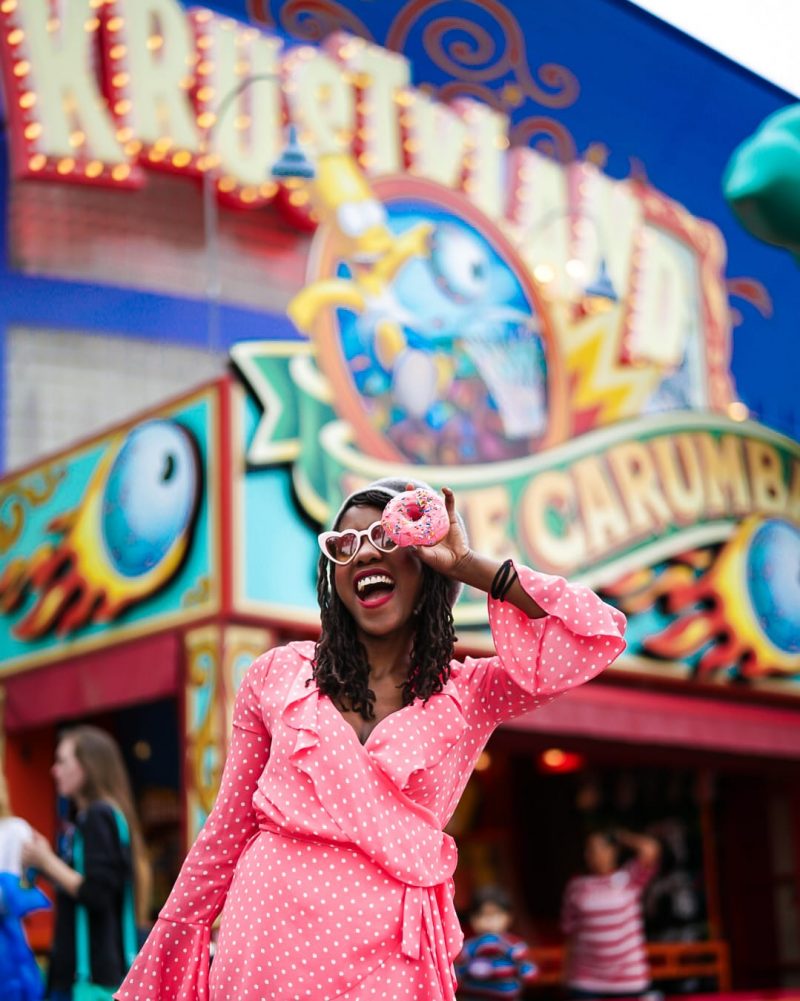 While walking around, try to spot some of the Simpsons characters and snap a quick pose with them as they roam through the park. You can also find the bench that has Simpsons character, Milhouse sitting on it and snuggle up for a friendly picture next to the quirky personality. 
The pool at Cabana Bay 
If you want a picture with an old fashion vibe, head to Cabana Bay where you'll get just that. The front of the beach resort screams "retro" and makes for a nice throwback to the 1950s and '60s. Featuring architecture characteristic of the time, you could totally capture some cute Instagram pics both outside and inside the resort. Stop for a picture in front of the resort near the Cabana Bay sign or poolside underneath the Castaway sign.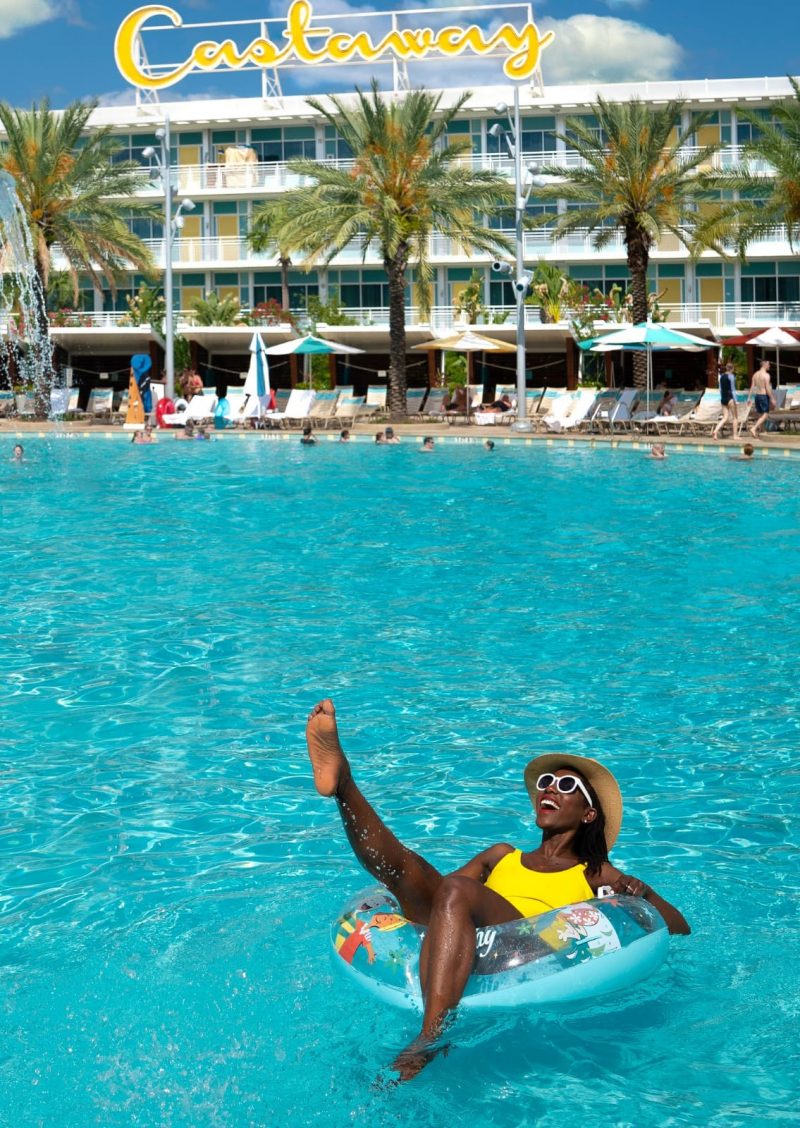 Outside of Voodoo Doughnut
There's no denying that every Instagram feed can benefit from a good donut pic! If you spend time on Instagram, you've most likely come across numerous pictures of beautifully decorated gourmet donuts in all their glory. Up your donut game by visiting Voodoo and taking your own pic of or with the yummy treats!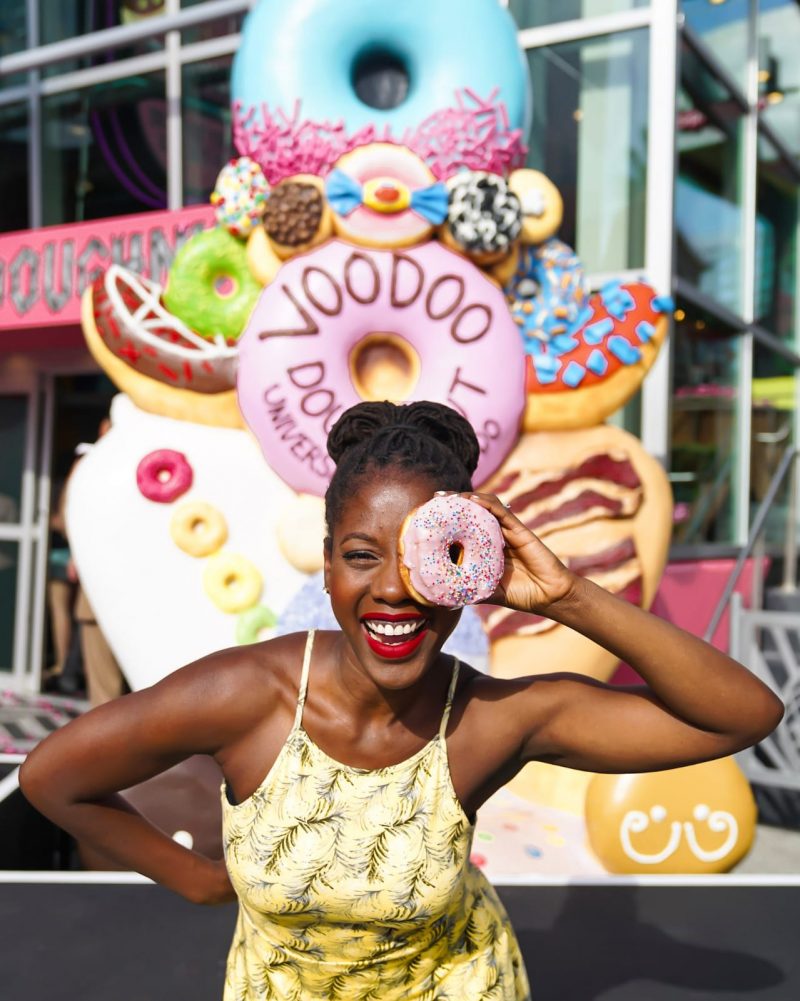 Voodoo Doughnut is a spot at Universal Orlando that will make all of your deep-fried dreams come true. Not only are the donuts to die for, but they're just as amazing to look at as they are to eat. Choose to buy a box of donuts (or just one if your willpower is strong enough) and take a picture outside in front of the cute shop. If you're lucky, the life-size Voodoo Doughnut sign will be wheeled out in front and you can snap a photo posing in front of the massive tower of decorated donuts. 
Diagon Alley
Chances are you've never had the chance to take a picture with a fire-breathing dragon. However, if you take a visit to Universal Orlando's Diagon Alley in The Wizarding World of Harry Potter, that will change. As you enter into Diagon Alley, you're transported into the streets of London, as Harry experienced them, where you can find the recognizable spots from the books and the movies. Position yourself right below the dragon perched on top of Gringotts Wizarding Bank and take your picture as soon as the dragon breathes fire!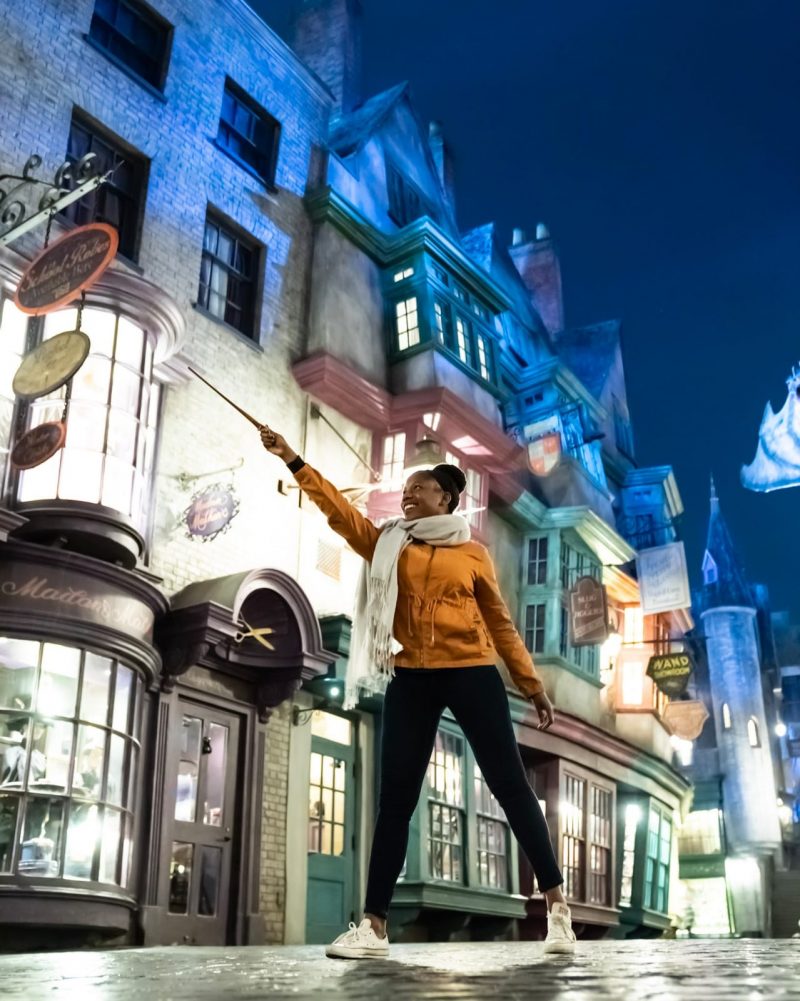 Toothsome Chocolate Emporium & Savory Feast Kitchen
All of the food at this restaurant looks delicious, but the kitchen is home to some of the park's most amazing desserts, which is why it undoubtedly made the list as one of the best Instagram spots in Universal Orlando. From delectable sundaes and over the top milkshakes to incredible cakes, waffles, and brownies, the emporium serves up almost any dessert you can imagine, and presents the dishes in a way that screams "'GRAM"! If you're looking for the most Instagrammable dishes, try ordering the Bacon Brittle or Confetti milkshakes, the Banana Cream Pie Sundae, or some of the many assorted French Macarons.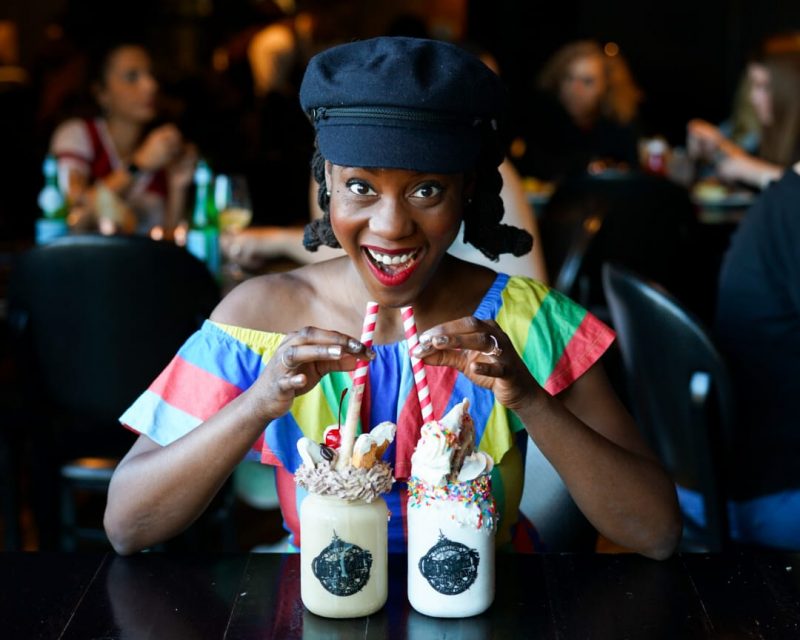 Jurassic Park at Universal's Islands of Adventure
Dinosaurs, anyone? You definitely don't want to forget your camera when visiting Jurassic Park, especially if you're a fan of dinosaurs or anything prehistoric really. As you enter the park, you're immediately transported back into the 2015 box office megahit. Stop for a picture underneath the Jurassic Park sign or dare to pose with one of the many realistic looking primitive creatures placed throughout the park! This spot is definitely good for the 'gram, but you have to grab a seat on the thrilling River Adventure water ride if you really want the full Jurassic Park experience!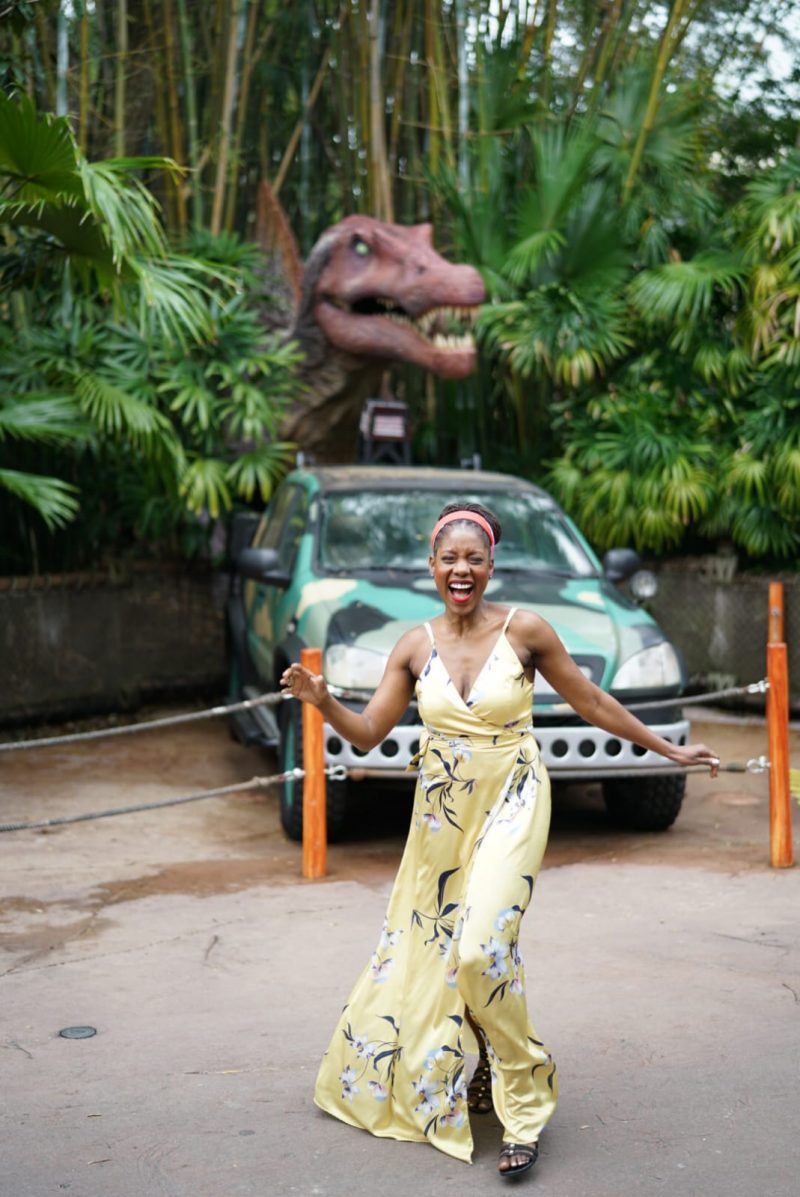 __
Whether you visit in the warmer months or the colder months, during the day or at night, you're guaranteed to leave Universal Orlando with many lasting memories and pictures. Not only is the captivating theme park the ultimate destination for fun, adventure, and thrill for people of all ages, but it's also home to endless Instagram-worthy spots. When visiting the park, challenge yourself to hit up all 10 places on the list which are sure to take your feed to the next level!
Pin and Share!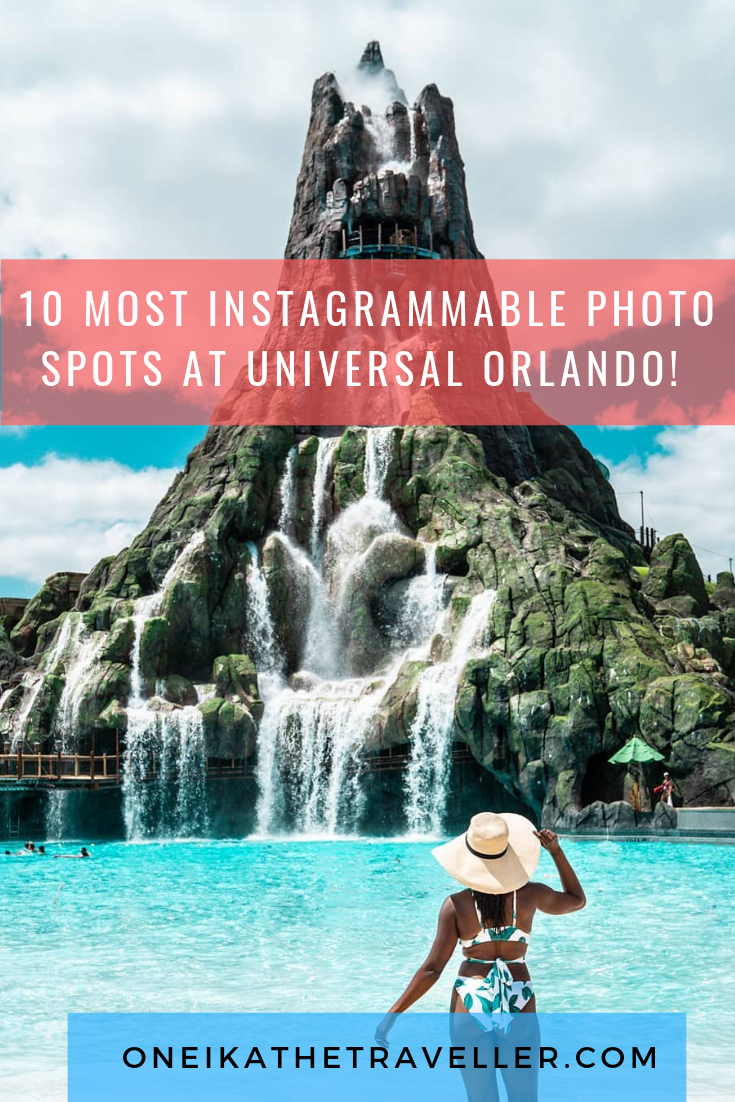 This post was written in collaboration with Universal Orlando, but all opinions (and bomb photos) are mine!