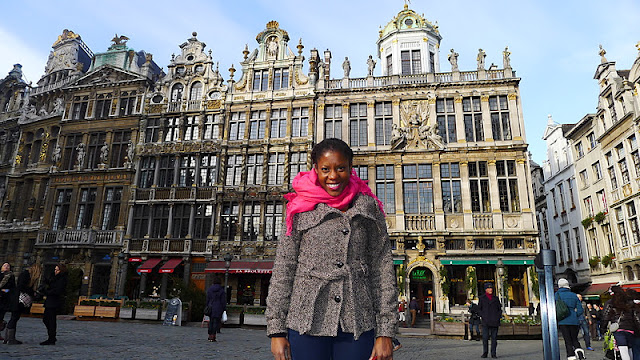 I knew that going to Belgium was in my future when I found round trip Eurostar tickets to Brussels for £69 ($105 USD). However could I pass up such a prime opportunity?
While Eurostar's comprehensive website frequently has an abundance of travel deals, the best ones are often sold out within the proverbial blink of an eye. Not wanting to miss out, I booked a cheapie ticket for the high speed train faster than you can say Jack Robinson.
I spent two days and one night in Belgium's capital and largest city, only one day after returning from my 10 day trip to Germany. I made the trip solo as Liebling had already been to Brussels and was otherwise engaged- he had to work (boo, sad face!). But no matter! I've travelled solo in Latin America and Europe and have always had the best time. I couldn't wait to see what Brussels would have in store.
On the day of my departure, I arrived at Eurostar's train terminal at St. Pancras Station at the scarily early hour of 6 am. After going through a security check and answering a few questions about my journey by a customs officer, I was let into the general waiting area. I was shocked at how many people were there. Joining the long line that snaked outside of a coffee in the terminal, I bought myself a cup of Earl Grey and a plain croissant. I tucked myself into a seat and waited for my train to board.


Once on the train, it was pure bliss. I adore train travel. I got myself nice and comfortable in my seat and gingerly sipped tea as I read on my brand new Kindle (a Christmas gift from Liebling!), and admired the serene landscapes that sped past my window.
A little over two hours later, I disembarked at the Bruxelles-Midi train station, and promptly made my way to the city centre, after a bit of retail therapy in the train station *snort, giggle*. Not even an hour into my Brussels adventure, I had purchased two pairs of knee-length boots. Once a shopaholic…


After my splurge, the first order of business was to drop my stuff at my hotel and then begin my Brussels exploration. But all hopes of an efficient transfer to my hotel were dashed when I stumbled upon the Grand Place (which is actually a World Heritage site!), Brussels' most beautiful square. I hung around for about 20 minutes taking pictures of the intricate architecture.


I finally managed to drag myself away from the gorgeous square and head to my hotel, The Dominican, which was conveniently located a five-minute walk from the Grand Place. When The Domincan first invited me to stay on their lovely premises, I clapped my hands in glee after sneaking a quick look at the hotel photos on their Facebook page: they revealed spotless rooms that were elegantly decorated. Upon arrival at the hotel, I was excited to see that the real thing was even better than the photos. What follows is a quick tour of my lodging for the night:
The room was spacious and the bed inviting.
And the stylish bathroom passed my very stringent criteria: it was clean, bright, and the fixtures were modern. LOVE.
I longed to spend more time in the comfy room (the early wakeup to catch the train was having its toll and big, plush bed was calling my name), but Brussels was begging to be discovered. First, however, I needed to refuel. And what better way to do that than to pick up a Belgian waffle? I hit up Vitalgaufre, a waffle franchise that has locations all over the city, and ordered. Two minutes later and two euros later, I had a piping hot gaufre au sucre in my eager little hands. Three minutes after that, the waffle was but a distant memory. I was that hungry. It was that good.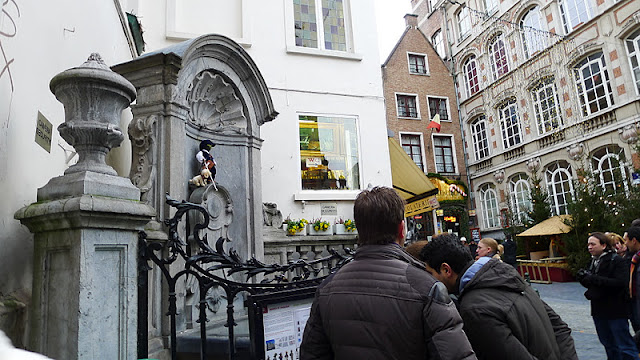 I'll admit, I was a bit disappointed. He was so small! In my Travel ABCs, I revealed that the most disappointing monument I've seen was the Petronas Towers in Malaysia, but I think the Manneken Pis is up there, too. I was mildly amused by his costume, until I realized he was dressed as a blind person– dark shades, seeing eye dog, white cane, and all. I'm probably as un- PC as they come, but I don't know how I feel about such a portrayal. Was it to raise awareness?
I got a much bigger kick out of the life-size chocolate replica of the Manneken outside the waffle store adjacent to the real thing. Tourists seem to enjoy this guy more as well; people lined up waiting to take a picture beside this choco statue.
I, however, didn't bother with all that. For I was too busy gaping at the waffle shop's offerings and debating whether or not to get yet another.
I gave a brief thought to my calorie count and decided not to spoil my dinner by eating another sugary treat. Instead, sighing, I pulled myself away and headed to the subway station. I was off to check out the next stop on my sightseeing tour, the Atomium!

Have you ever been underwhelmed by a statue, place, city, or monument on your travels? Where? Which one? Why?


A huge thanks to The Domincan Hotel for hosting me during my trip to Brussels!


Psst! Don't forget to "like" me on Facebook if you haven't already! Your support is much appreciated!