My experiences travelling as a black woman in Russia.
If you read this blog or follow me on social media, you're probably already aware that my husband and I spent 10 days in Moscow and St. Petersburg a few months back. (Not following me on there yet? Get thee to my Facebook page or Instagram, stat!)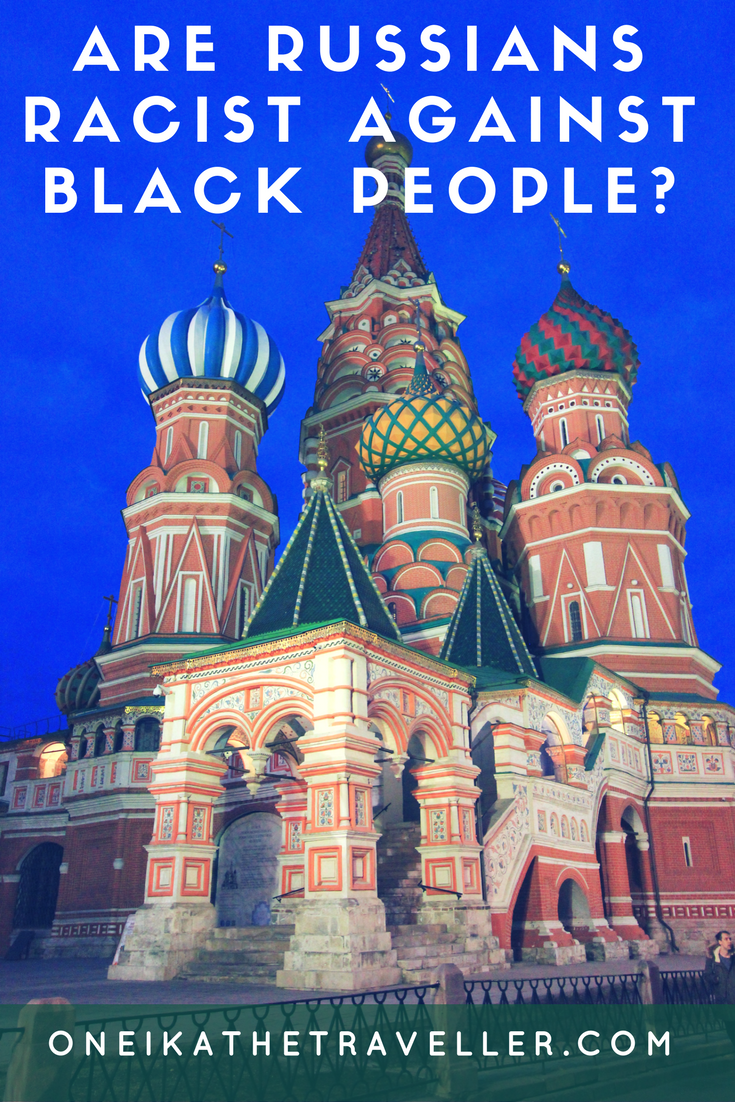 In the time since, I've gotten a lot of interest and questions from people about our trip.  This isn't entirely surprising, because while Russia gets its fair share of visitors, it's not a hugely popular destination for most holidaymakers.
That Russia is not on the average traveller's radar could be due to a few factors. The weather is brutally cold most of the year,  it has a reputation for being eye-wateringly expensive, and its sordid political past (and unstable political future) make it far more attractive to vacation in tourist hubs located in nearby Western Europe.  (In 2015, London and Paris were ranked the 1st and 3rd most visited cities in the world, respectively.)
Moreover, though it may be purely conjecture, Russians are not renowned as being the warmest or friendliest people.  Russia thus remains largely unexplored by the general tourist population.
Given all the above, I totally get why people are interested in our Russian holiday– their interest comes from a place of simply not knowing. But apart from the frequent "So, what's it like?" questions, my trip has also elicited a lot of curiosity from fellow black travellers who ask, time and time again, what it was like to travel there as a person who is melanin-blessed.
As I share my pictures and observations online, I get variations of the same question over and over:
"Is it true that Russians are racist towards black people?"
"Did you suffer any racial discrimination in Russia?"
"What was your experience in Russia travelling as a black woman?"
In this post, I'm going to share my experiences.
Some historical context: African-descended people in Russia
In order to understand why this question pops up so much, it's necessary to understand the history of African-descended people in Russia and former Soviet republics. In my research on the web, I was surprised to discover that black folks have long had a presence in what was known as the USSR: according to this article, hundreds of African-Americans travelled to the region between 1920 and 1930 in an attempt to make a better life for themselves, as well as to escape the economic strife and racial persecution they faced in the USA.
Blacks from the African continent weren't far behind: this article explains that they relocated to the Soviet Union in large numbers, recruited by officials promising a free university education. The social climate for black people at that time was thus good, with skilled black labourers and professionals often receiving red carpet treatment in the form of enviable salaries and subsidized housing.
But this contrasts sharply with recent depictions of race relations in Russia. A quick Google search reveals articles about hostility against blacks across the country, which at its "best" has included verbal abuse (like the racial epithets hurled at black soccer players by fans during matches) and at its worst has culminated in outright physical violence during games on Russian soil.
It's thus no surprise that black travellers of the present day are concerned about their safety and well-being while travelling in Russia.  Will "Travelling While Black" on Russian soil put them in harm's way?
Travelling While Black in Russia– My experience
The short version: I had no issues at all during my  time in Moscow and St. Petersburg– in fact, I was treated exceptionally well.  I got a *lot* of love from local people and this was shocking to me based on what I'd heard and read about race relations in Russia.
The long version: I felt like I was received with open arms during my stay.  I got some curious looks, but none of the long, laser-focused stares I've encountered in many parts of Asia.  People were extremely polite, helpful and cordial, especially in Moscow, which is decidedly the most "Russian" of the two cities (St. Petersburg looks and feels very Western European. I also found it to be way more touristy and easier to navigate as English, as opposed to just Russian language, is written and spoken far more widely than in Moscow).  Here are some examples of the encounters I had in Moscow that stuck out to me most:
Russian people, unsolicited, approached us on the street and on the subway to offer help with getting around. Moscow's subway can be daunting as all the signage is in the Cyrillic alphabet and most guidebooks and maps have the stations' names written in Roman characters. At times, we struggled, but never had difficulty receiving assistance. On one occasion, seeing the look of puzzlement on our faces, a gentleman stopped and, despite his halting English, took five minutes to point us in the right direction.
The elderly lady in the subway car who smiled at me and patted the seat adjacent, beseeching me to sit down beside her.
The security guard at the Europeisky mall who, upon discovering I was from Canada, engaged us in an animated discussion about his love for my country— he once lived and worked in Nova Scotia.
The young man working in the Adidas shoe store who treated me with care and provided me with exceptional service.  He thanked me for visiting his country, and implored me to explore more of it. He also lamented the fact that Russians have a reputation the world over for being "bad people".
The older man in the same shoe store who came from the other end of shop to tell me which shoes to buy. "Lady, the black one better," he said.  "You need shoes to run from Russian man!"
These are a few (anecdotal) examples that show why I found my experience in Russia to be extremely pleasant overall.  In no way did I ever feel myself to be discriminated against because of my race. However, please note that these are my personal experiences and that there are a variety of factors that may or may not have impacted how I was treated.  What are they? Read on.
Why you should perhaps take my assessment with a large grain of salt
+I'm a black woman, not a black man. I would be remiss if I didn't acknowledge this.  Black women that travel are less of a perceived threat than black men– blame mass media, who seem hell bent on propagating the idea that black men are imposing, dangerous, criminal.
+I'm petite and appear non-threatening.  At 5 foot 3, and 130 lbs, I'm small–I constitute no physical threat. I'm also very smiley.  My countenance oozes positivity and that puts most people at ease.
+I only went Moscow and St. Petersburg. These cities are very cosmopolitan and though they are not on the same level as London, Paris, or Rome, they get many visitors yearly.  Russians in these cities are well-educated and used to both seeing and interacting with foreign visitors.  Had I ventured "off the beaten path", to more rural cities, my experience might have been different.
+I spent 90% of my time in the company of a white man.  My husband is Caucasian and, though he hails from Germany, was often mistaken as a local.  It would be reckless to not acknowledge that being in his presence the vast majority of the time possibly shielded me from untoward reactions.  That being said, aware of this, I made sure to spend two afternoons exploring on my own.  Strangely enough, I found people treated me way more nicely when I was by myself (see my encounter above, in the shoe store) .
+I speak "American" English and present as a distinctly North American person. Again, it's important to acknowledge that my "American-ness" , blue passport, and "American" physical aspect provide a layer of security, even in places that are known for being racist, prejudicial, and/or discriminatory.  My voice and my clothing scream Western tourist and in many places this is an advantage. Don't believe the hype, in many countries Americans are put on a pedestal and given preferential treatment.
So is Russia racist against black people? Should they travel there?
This is a question that I still find difficult to answer. My experience was extremely positive, but there are so many factors dictating this that it's difficult to provide a definitive response that would apply to all.  Personally, I would (and will) return.  The architecture is stunning, the history and culture immersive, the food divine.  However, on my next visit, I would like to venture outside of the main cities and explore elsewhere– Russia is too large to rely on just Moscow and St. Petersburg for an accurate depiction of what it's about.
One thing is for sure, however, you'll never know what Russia is truly like until you go over there and see it for yourself–this is the same for any country, city, or territory.  So, to my fellow black people: I say go forth and explore, always taking care to arm yourself beforehand with information, anecdotes, and evidence.
Watch my Youtube video about my experiences in Russia:
Black people, I'd love to know: has the threat of racism in Russia (or any other country) stopped you from travelling there?  Have you ever been the victim of racial discrimination abroad? Where?  And for those of you who have been to Russia, what were your experiences?
LIKE IT? PIN IT.