Let's be honest: Monaco is not cheap.  This miniscule principality is all glitz and glamour, yachts and old money, luxury cars and expensive tastes. But while your modest travel budget may not allow you to indulge in the fancy parties and exclusive real estate, looking is always free, thank goodness!
Getting to Monaco is sinfully easy (and cheap!) from Nice.  You can take the bus or the train to Monaco: the bus, leaving from Nice's centre, only costs 1 Euro and the train, leaving from the SNCF station slightly north of the main boulevard only costs about 4 Euros.  Though the bus is more cost-effective, it's also slower, with the journey taking 45 minutes in comparison to 25 mins on the train.
Though I get horribly carsick, the bus stop was closer to our hotel in Nice, so we hopped on and I hoped that I wouldn't throw up. Due to traffic, we arrived in Monaco nearly an hour later, and after the winding roads I was feeling quite ill.  As this is nothing new, I tried to ignore the waves of nausea and tried to figure out where we would go first.
We started our walking tour with a trip to the Royal Palace. Beware, the 10-minute walk up the steep paved hill to get here exhausted me- make sure you pace yourself!
Unfortunately Prince Albert was too busy to greet Liebling and I (hrumph!) so we had to move on.  Next up was a short walk to take a look at all those fancy yachts Monaco is known for.
And then another short walk to take in more of Monaco from above.
We walked in the Old Town near the Palace, where I purchased a 2.50 Euro ($3 USD) can of Coke.  Ouch.
Strolling around in Monaco's centre, I was disappointed to see that all the stores were closed (it was Sunday).  Not that I would have been able to afford anything…
We then arrived at Casino Square, location of the Monte Carlo Casino, where we were treated to massive crowds and very expensive cars.  We are far from high-rollers, but going into the casino and taking a photo is free, so that is what we did!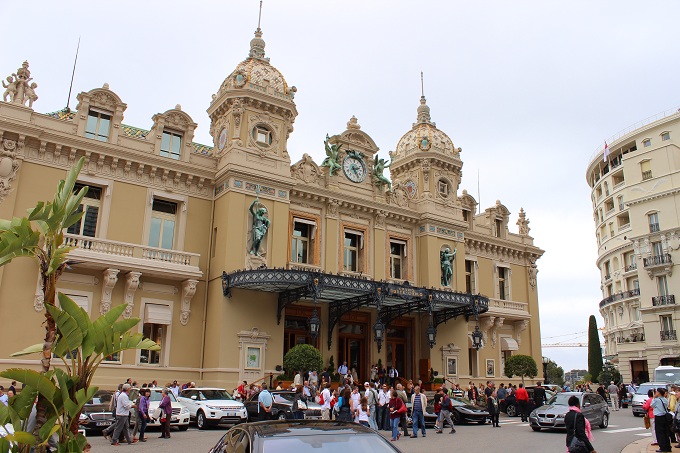 Have you ever been to Monaco? Is it a place you'd like to go to?